When:
April 22, 2021 @ 10:00 am – 4:00 pm
2021-04-22T10:00:00-07:00
2021-04-22T16:00:00-07:00
In this bag class, choose the same bag as the sample (TBD probably one of the duffle bags) or choose a smaller bag, ByAnnie has SO MANY patterns to choose from, feel free to check out her website, and we can custom order anything you might need for the class.
April 22 10:00-2:00 is cutting/prep/quilting the pieces, if you do not want help with this, you can sign up for the second day only and come with your pieces all cut, labeled, and quilted.
April 29 10:00-4:00 is the day we build the bag, I LOVE making bags by Annie, and I'm telling you it's addicting.
$80 for both days or $60 for the second day only.
It's a good idea to choose your pattern and fabric well ahead of time in case we need to custom order any hardware, mesh or zippers for you. Don't worry, there are lots of steps and elements but these patterns are so easy to follow, I promise you will love it!
Teacher: Ericka Birkett
Level: Intermediate (maybe a confident 🙂 beginner)
Here are some of  the Travel Duffle Bag 2.0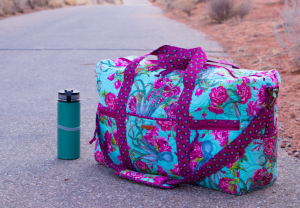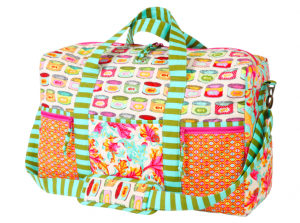 Some of my other favorites are the Double Zip Gear bag, The Ultimate Trave Bag, and A place for Everything
 Here are some tips and tricks in no particular order 🙂
If you know what bag you are going to make ahead of time (at least 2-3 weeks) we can make sure we have the hardware / zippers / mesh, available in the colors that you want
I like to use a darker fabric on the outside, because it hides the dirt better, and a lighter fabric on the inside because it makes it easier to see when you are looking in the bag.
If you are a beginner / less confident sewer choose a simpler easier bag, I hope to teach this class again next fall and then you could try a harder one 🙂
Zippers by the yard can save you money
Don't cheap out, use the ByAnnies zippers and soft and stable, you don't want to spend all this time on the bag and then have it not turn out, or not hold up like it should.