When:
January 27, 2021 @ 3:00 pm – 5:30 pm
2021-01-27T15:00:00-08:00
2021-01-27T17:30:00-08:00
Kids ages 8 and up can learn to thread a sewing machine, wind a bobbin, and work on sewing straight lines, all while making some great projects! A pillow case, a 9 patch treasure bag, strip-work pillow, a snap bag, and a frayed edge quilt will all be made over 5 2.5hour classes. Kids will learn to do a back stitch, a pivot, a 1/4 inch seam, a french seam, try to master a straight line and use an iron.
Supplies MUST be purchased in advance, info will be on the supply list when you sign up.
Wednesdays Jan 27 – Feb 24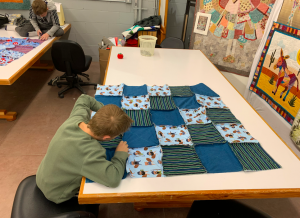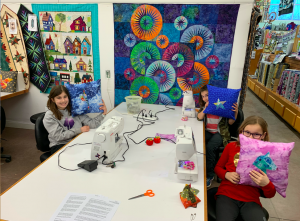 3:00-5:30
$145 – This covers the supplies for some of the projects, supply list available at store. Also includes machine rental, if needed
Teacher: Ericka Birkett
No experience Necessary
Covid 19 update:
We have 2 sinks available in the classroom, please have your child watch their hands upon arrival. We do our best to spread kids out at the tables, but they will be sharing an iron and possibly other tools. Because of the size of the classroom and the fact that people have to go to and from the ironing board and cutting table, you will have to assume that everyone in the class is now in your bubble. If you are concerned it's probably best to wait to join a class until cover is less of a threat.